Actuation Shop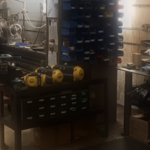 We have our own  in-house valve actuation shop.  This enables us to create customized valve automation solutions for our customers for any project.  We also carry the most popular brand of electric, hydraulic and pneumatic valve actuators so you can complete your entire project in one place and save money.
With over 30 years experience in valve automation, our goal is to provide quick turn around on customized valve assemblies for even your most demanding applications.
Electric Actuators : On/ Off, Modulating, Failsafe, Dribble Control
Pneumatic : rack and Pinion, Scotch Yoke, Double Acting, Spring Return
Hydraulic
Positioners : Pneumatic, Electro-pneumatic, Digital, Multi-stage Shutdown
Limit Switches, Solenoids, Speed Controls, other control accessories
3 Way T assemblies, Spring Locking Handles, Special Configurations
Full Machining Capabilities: CNC, Lathes, Cutting, Welding
Large inventory of Ball, Butterfly, Plug, Knifegate, Gate and Globe valves for actuation.
We also have pipe insulation solutions.
Samples Of Our Work
Click on image to enlarge and view slide show.

Inventory Management Program
Cut to Length Pipe
Pipe Threading and Grooving
Pipe Bending and Coiling

Steam System Specialist
Multiport Valve Fabrication
Custom Valve Extension
Material Certification