Find It Now
Search easily for products & articles related to your project.
We Provide Valve Automation Solutions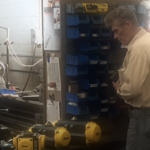 Let our team of experts help you with your valve automation requirements for electric, hydraulic and pneumatic valve actuators using the best quality components from a variety of respected manufacturers in the flow control industry.
We're a full service valve automation shop, which includes an in-house actuation shop. Our line of actuators includes both rack-and-pinion and skotch yoke pneumatic design, hydraulic, and 115VAC, 230VAC, 12VDC, 24VDC and spring return or battery operated electric. Capabilities include low pressure air (as low as 10psig), high cycle, high speed (up to 100 millisecond), high temperature, submerged, water powered, sanitary and chemical resistant applications. Control valve designs include self-operating, pneumatic, and electro-pneumatic. We also handle controls for pressure and temperature regulation. Our actuators have networking capabilities, using a variety of standard network protocols, including AS-Interface, Profibus, and Foundation.
Our Customers
We serve a wide variety of customers from end users in the power, process, steel, oil and gas, water/wastewater, and food processing industries as well as O.E.Ms and contractors. We pride ourselves in personalized service that results in long term partnerships.
Find It Now
Search easily for products & articles related to your project.
Need A Customized Solution?
Let our team of experts help you with a valve automation solution that's right for your project.
Brands We Carry (click on a link to request quote):
ABZ BUTTERFLY VALVE, AIRCON, AMERICAN VALVE, APOLLO, APOLLO AUTOMATION, ASCO, BELGAS, BONNEY FORGE, BONOMI, CHECK-ALL, CRANE, CRANE DUO-CHEK, DK-LOK, DYNATORQUE, ELLIOT SAFE OPERATOR, ELECTRA AUTOMATION, EPIC, FLO-TITE, HABONIM, HART, GIE, JAM FLOW, IPEX, J&M VALVE, MAX-AIR TECHNOLOGIES, MONITEUR, MUELLER STEAM SPECIALTIES, ORBINOX, POWELL, PRESSURE COMPONENTS, PROMATION, PROXIMITY, RADIUS, SHARPE, SPIRAX/SARCO, TECH-LITE, TITAN VALVE, TYLOK, VALVCON, VALVSYS, VOGT, VRC, and WESTLOCK.